Gait and Balance Testing | CHFA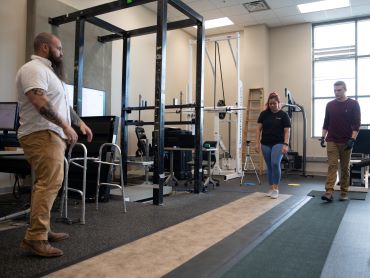 Gait and Balance Testing will measure the efficiency of your walking and assess your risk of falling. During this test, you will walk at a normal, comfortable pace over a 16 ft carpet four times and you will stand still for 30 seconds. You can pause or rest if needed in between the walks. No physical discomfort should be experienced during this test. There are no known risks associated with this technique.
Why would I want a gait and balance test?
The risk of falls increases as you age and is an important public health problem for the elderly populations. Early identification of gait and balance disorders and appropriate intervention may prevent dysfunction and loss of independence. Suitable tests may help detect those at risk of falling. The tests we administer are quick, non-invasive tests that provide you with a wealth of knowledge that you can share with your primary doctor or therapist to help identify potential risk factors or areas that could be improved.