Education
2001-2006 East Carolina University - Greenville, NC
Department of Exercise and Sport Science
Ph.D. Bioenergetics
Mentor: G. Lynis Dohm Ph.D., Department of Physiology
Dissertation Title: The Role of PKCBeta in Skeletal Muscle Insulin Resistance.
1999-2001 California State University, Chico Chico, CA
Department of Kinesiology
M.A. Physical Education (emphasis in Exercise Physiology)
Mentor: John (Jack) Azevedo Ph.D.
Thesis Title: Correlation of Glucose Transport and GlucoseTransporter Protein in Human Skeletal Muscle.
1994-1999 California State University, Chico Chico, CA
Department of Physical Education and Exercise Science
B.S. Exercise Physiology
Teaching Specialties
Exercise Physiology, Physiology, Health and Fitness and Emergency Response/CPR
Current Courses Being Taught
Introduction to Public Health (PH 2000)
Emergency Care and CPR (PH 3100)
Obesity Prevention (PH 4400)
Seminar in Rural Public Health (PH 4650)
Previous Teaching
Fitness in Health Promotion (HP 3000)
Biostatistics (HP 4100)
Epidemiology (HP 4200)
Weight Mangaement (HP 4400)
Professional Affiliations
American College of Sport Medicine (ACSM)
American Public Health Association (APHA)
Community Affiliations
Appalachian Regional Healthcare System THRIVE Weight Loss Program Consultant
Watauga County Schools Academically and Intellectually Gifted (AIG) Advisory Board
Laboratory Affiliation
Research Interests
Obesity and Insulin Resistance
Publications and Presentations
KJ King, P Shaffer, AN Taylor, K Moton, JJ Zwesloot, I Sharieskva, RA Battista. The effects of physical activity trackers on the influence of physical activity levels in children. SEACSM 2016.
Jennifer J. Zwetsloot, Lindsey Miller, Barrett Ward, Christina Gilboy, Hannah McGlamery. The Acute Resting Metabolic Response to Energy Deficit caused by Increased Expenditure vs. Caloric Restriction. Medicine & Science in Sports & Exercise. 47(5S):639, May 2015.
Jurrissen TJ, Carson LT, Bishop AE, Woerner SM, Zwetsloot KA, Neiman DC, Perkins-Veazie P, Collier SR, Shanely RA, Jennifer J. Zwetsloot. Effects of watermelon supplementation on insulin resistance and intake signaling in free-living, overweight, postmenopausal women. Med Sci Sports Exerc 47: S5, 104-106, 2015.
Cree MG, Zwetsloot JJ, Herndon DN, Newcomer BR, Fram RY, Angel C, Green JM, Dohm GL, Sun D, Aarsland A, Wolfe RR. Insulin Sensitivity is Related to Fat Oxidation and Protein Kinase C Activity in Children With Acute Burn Injury. J Burn Care Res. 2008 Jul-Aug;29(4):585-94.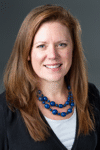 Title:

Senior Lecturer, PhD, Bioenergetics

Email address: Email me

Phone: (828) 262-6800

Fax: (828) 262-3138
Office address
Leon Levine Hall 428