About
ERPL
The ERPL is located within Leon Levine Hall of Health Sciences and collaborates closely with the Cardiovascular Research Laboratory. The laboratory is equipped with the pressure transducers, pneumotachographs, and software necessary for the measurement of airflow. Additionally, the laboratory has use of metabolic carts, a pulse oximeter, a capnograph device, a Bod Pod, treadmills, and cycle ergometers.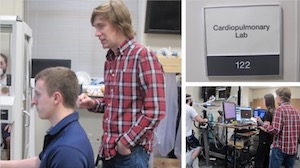 Principal Investigator
Dr. Stickford earned a B.S. in Kinesiology from Indiana University-Bloomington (IUB) in 2004. He continued his graduate work at IUB, finishing his M.S. in Exercise Physiology and in Ergonomics in 2009. His doctoral work with Dr. Joel Stager, also at IUB, was completed in 2013. Subsequently, he left Indiana to pursue a postdoctoral fellowship with Dr. Tony Babb at the Institute for Exercise and Environmental Medicine (IEEM) in Dallas, TX. Dr. Stickford joined the faculty at Appalachian State University in 2015.
Contact
Jonathon L. Stickford, Ph.D.
Assistant Professor, Department of Health & Exercise Science
828-262-7471